By Brianne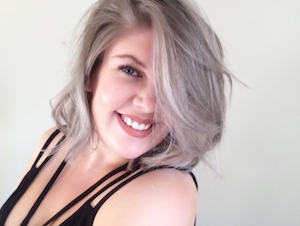 Describe your blog in fifteen words or less:
Musings about all things lovely, yet tends to be mostly beauty and wedding related.

Why did you start your blog?
I have always wanted to be a writer. I self-published a book, wrote for papers and magazines through university and college and even studied journalism at school. Then it finally clicked: create your own blog and you'll always have a place to write. I loved the idea of creating my own space that I am in charge of, where I can rant about a book I read or ramble on about a wedding trend or a favourite new lipstick. Once I realized that it didn't have to just be a 'someday I will' type of daydream it all came together very quickly and I love spending time (some would argue too much time) on it, even though it's only coming up on one year. It's amazing to make an idea grow into something tangible and to see it keep evolving.
What do you love posting about on your blog?
This is a tie for me – beauty and weddings! And that's what I post about most often. I really enjoy being able to chat about products I love and introducing people to a product they might not have thought of, even if it's as simple as a shade of lipstick that might have seemed daunting in the store. As for weddings, it's the happiest day of your life (that's the hopeless romantic in me talking) and they are always so full of love that it puts me in a good mood to share trends and tips for planning.
What is your favourite post?
If I had to choose one, and of course it's hard because I seriously look at each post like it's a little gem of my creation, I would pick one that doesn't fall under beauty or weddings. I wrote a post about Toronto and included a list of things you would only get if you ever lived in the city and it's a little bit sarcastic, something I don't get to do too often with reviews! It's also more relatable than a lot of my content, especially with fellow Torontonians, and that made it fun to share around.
What is your #1 tip for others looking to start a beauty blog?
Don't forget your passion for beauty along the way, it's why you start! And please take time for you, it's amazing to hustle but you can't forget to take a breather every once in a while.
So check out Brianne's blog, you won't regret it! Go to Sincerely, Bri!





YOUR BLOG COULD BE THE NEXT BLOG OF THE MONTH!
Join the CBB Blog Network